Camille discovered babywearing from one of her dear friends back in college who encouraged her to try babywearing with her youngest son, who was about to turn a month old then. She got so curious and was very eager to learn, that she conducted further research about it. Camille then joined several babywearing groups, along with mommy groups and stalked several babywearing online shops, until she decided to buy her first two carriers (which was a woven wrap and sports wrap) and had a go at it. At exactly 4 weeks or a month old, Camille began babywearing her youngest in a wrap, and also started wearing her 1 year old toddler in it too.
Not being able to attend babywearing meet-ups, and not knowing anyone personally yet in the babywearing community who was nearby, she taught herself on how to use a woven wrap thru video tutorials on You Tube. Eventually through constant practice and everyday use of the wrap, she was able to get the hang of it, and eventually tried different other carries using a wrap. Thankful for the new found skill and talent, she was able to multi-task such as cooking, doing the laundry cleaning the house while also tending to her toddler, and being of service to her husband.
Fascinated by the beauty and huge help of babywearing, Camille also decided to try out other types of carriers aside from Woven Wraps, like Ring Slings, Mei Tais, Soft Structured Carriers (SSC's), and more, which then eventually led to establishing her own Online Store, namely Wear Your Baby PH. Even though, she had tried several other types of carriers, and various other brands, she admits that she is and always will be a wrap loving type of mom.
Wear Your Baby PH is basically an online rental shop of ergonomic carriers. It aims to help parents out who are unsure about babywearing, to try one for a week or two (or even a month) and hopefully encourage and convince them to really pursue babywearing. WYBPH also aims to help those who are undecided on which carrier to buy, especially given the fact that there's a large variety of designs and types of carriers to choose from. So hopefully, through rentals, they would be able to try which type of carrier they think is well suited for them and their baby. It is also largely similar to how a lending library works, but in this case, it lends baby carriers for a certain fee. Aside from rentals, Wear Your Baby PH also provides helpful information, facts, tutorials and so many more that is connected to babywearing. Think of it as your Local Lending Library and Consultant in one! So, through this, Camille, is not only able to enjoy her passion for babywearing, she is also able to share her knowledge about it, as well as help raise awareness and contribute to an advocacy with a great cause. To know more about her Online Store, you can check out her Facebook page
Camille has also made some babywearing video tutorials that you can also check out at her Youtube Channel:
Wear Your Baby PH
Aside from, establishing Wear Your Baby PH, Camille is also the Founder of a Local Babywearing Tester Group here in the Philippines, known as Babywearing Testers PH. The group aims to spread and raise awareness regarding safe and proper babywearing, and normalize babywearing in the country by introducing different carriers and retailers. This is done through, testing various brands of carriers from all over the world, in exchange for reviews or feedbacks along with photos from members within the group. Members then, share their experiences among their friends, blogs, and through several other social media accounts.
As you can see, her love for Babywearing had ventured out this far already, and she says that she still has more plans in mind for it in the future. She also mentioned that, she wouldn't have achieved it all without the help of her dear friends from South Pinanays, as well as her friends from Keen Eyes Productions who has played a major role in uplifting her Online Stores and Tester Group. For that she is very much grateful.
A personal and inspiring message that Mommy Camille shared with us was: "Babywearing is an entirely wonderful and amazing journey that parents would enjoy experiencing with their babies. Not only does the bond between a mother or father and baby is strengthened, but so is the baby's mental, physical, health and social aspects are developed; which is a crucial part during those very early days for a baby. It is indeed a struggle and challenge at first when you try, but don't give up. Because I assure you that in the long run it is very rewarding. Just hang on and enjoy it. For as long as you could hold and carry your baby, DO IT. Because that phase, that moment will go by real quick, so cherish it now before you regret it in the end."
By: Camille Respall-Manalo
-Full-time Mom and Wife
-Part-time Mompreneur at Wear Your Baby PH
-Founder of Babywearing Testers PH
Aside from being a Babywearing Advocate, Mommy Camille is also a breastfeeding, cloth diapering and co-sleeping mom. Babywearing had also become a way for her to achieve all these practices for her and her baby, since it is a perfect match to all these, most especially breastfeeding; since babywearing and breastfeeding really goes hand in hand.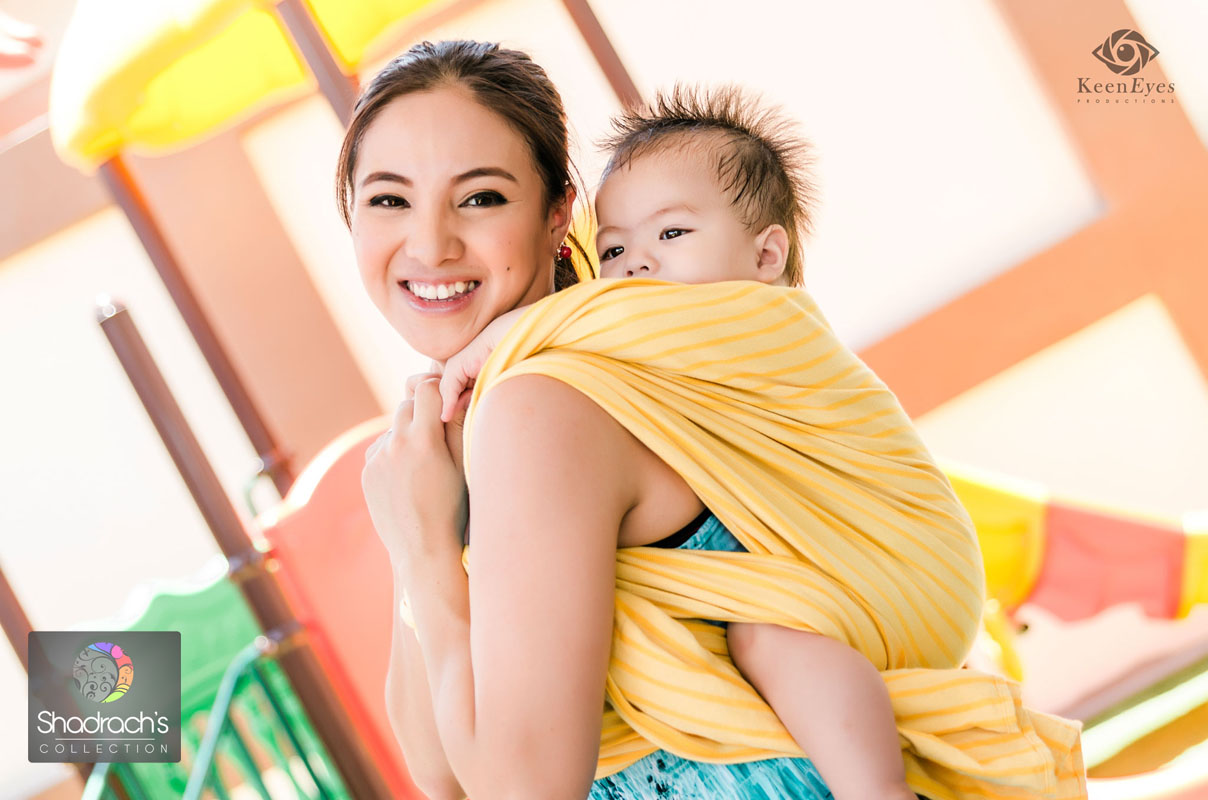 Special thanks to KeenEyes Productions and South Pinanays.